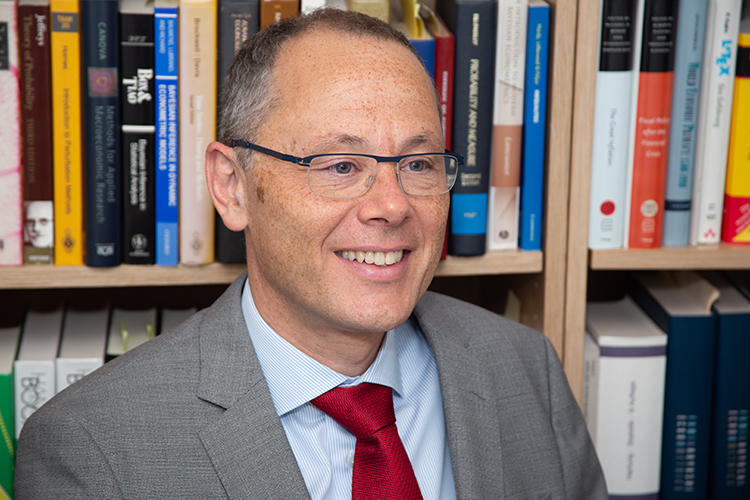 Philadelphia, July 2020
Welcome,
As Chair of the Economics Department at the University of Pennsylvania, I wish to thank you for visiting our website. We are consistently ranked as one of the top ten U.S. economics department, with faculty and students dedicated to applying vanguard theoretical, computational, and empirical methods to answer questions of general economic research and policy interest. You can access this research through the personal pages of our faculty and the PIER working paper series and the faculty publications page featuring recent work from the American Economic Review, Journal of Political Economy, Econometrica, Review of Economic Studies, and the Quarterly Journal of Economics.
Our diverse and distinguished faculty represents more than a dozen countries from five continents. It includes two Fellows of the American Academy of Arts and Sciences and thirteen Fellows of the Econometric Society. Our faculty serves the economics profession diligently, as many have editorial responsibilities at major economic journals, including Econometrica. Many faculty members are receiving external research funds from either the National Science Foundation or the National Institute of Health while several others are affiliated with economic think tanks such as the National Bureau of Economic Research and the Centre for Economic and Policy Research.
We say farewell to Kenneth Burdett, who joined the Department in 2002 and retired on December 31, 2019. At the same time, we welcome two new faculty members:
Juan Camilo Castillo is an empirical microeconomist who specializes in the area of industrial organization. He received his Ph.D. from Stanford University and is conducting research on the newly emerging "gig economy." His job market paper, for instance, studies the welfare consequences of surge pricing for ride-share services.
Sichao (Kevin) He is a microeconomic theorist who graduated from Harvard University in 2019 and spent one year as post-doctoral fellow at the California Institute of Technology. His research interests span game theory, network theory, information economics, and behavioral economics. Some of his papers analyze models in which agents are not perfectly rational because their decisions exhibit behavioral biases.
Our vibrant Ph.D. program houses slightly more than 100 students from across the globe, conducting research in four major areas of inquiry: econometrics, economic theory, empirical microeconomics, and macroeconomics. Our Ph.D. student placement record continues to be strong. We look forward to watching our students become future leaders in the Economics profession and proudly accept the challenge to guide future cohorts of Ph.D. students to similarly successful outcomes.
At the undergraduate level, we offer two majors: an economics major as well as a mathematical economics major. The latter is designed for students with a strong interest in both economics and mathematics who will potentially consider pursuing a graduate degree. Combined, our two majors have consistently been the largest undergraduate major in the School of Arts and Sciences, and as a Department, we are committed to impart the insights we have gathered from our own research to our undergraduate students in a scientifically rigorous yet accessible and interesting way.
The ongoing Covid-19 pandemic has had a significant impact on the operations of our Department and, of course, the University at large. In March 2020, we shifted from classroom instruction to online instruction for the remainder of the spring semester. As a result of the efforts and dedication of everyone involved, the transition implemented over a period of two weeks went smoothly without any disruption to our educational mission.
For the fall semester, the University of Pennsylvania will follow a hybrid model. This will allow many students to return in a limited and careful way by incorporating online and virtual learning with on-campus classroom instruction where it can be provided safely and when it is essential to the academic needs of the course curriculum. The Covid-19 pandemic has drastically accelerated the development and use of online tools for teaching Economics in our Department. I predict that many of the teaching innovations will stay with us, leading to a partial transition from traditional lecture-style courses to structured active in-class learning over the coming decade.
Building on their broad expertise, many faculty members started to conduct research on the economic impact of the Covid pandemic. The Penn Institute for Economic Research (PIER) created a hub that features Covid-related research in the Department, spanning forecasts of the evolution of the pandemic and its economic effects, the measurement of the efficacy of specific public health policies to curb the spread of the virus, and long-term changes to the economy caused by the pandemic. A recent OMNIA article provides a very nice overview of the research initiatives.
In previous years, I closed this letter with an invitation to come visit us in Philadelphia. In view of the travel restrictions, such a visit may be difficult to arrange, at least for the remainder of the calendar year, and the campus may not look as lively as it was a year ago because many of the day-to-day activities will now take place "behind closed doors" or remotely.
Nonetheless, the Economics Department will remains a vibrant place as we will continue our exciting quest to better understand the complex international economic world and to analyze the efficacy of a wide range of economic policies, one research project at a time.
Yours Sincerely,
Frank Schorfheide
Professor and Chair
Department of Economics